Alison Smith Classical Guitar Recordings
Alison has released two successful albums. She has recently been taken on by Willowhayne Records to become one of their artists. Alison's CDs are distributed both physically and digitally worldwide. There are exciting plans for a new recording in the future. To listen to excerpts, buy or download her CDs, please visit www.willowhaynerecords.com or Amazon, iTunes, www.prestoclassical.com
"Check out Alison's latest CD, 'Incandescent', a wonderful collection of works played beautifully. We loved it!"
International Guitar Festival of Great Britain
Incandescent
Incandescent has two meanings, one being an intense glow, which can generate colours and secondly being full of high emotion and passion. Beethoven described the guitar as "an orchestra at your fingertips" because of the many different colours that can be achieved when playing it. The CD displays the guitar's abundant colours and nuances and is highly expressive. This CD will be sure to delight listeners with it's enchanting mix of well known guitar works and new compositions. Composers include:Bach, Giuliani, Mertz, Tarregá, Albéniz, Lovelady, Ryan and Cottam.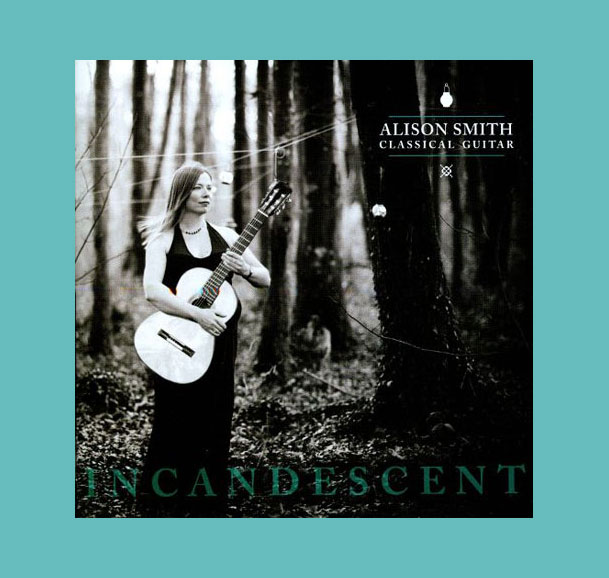 Incandescent
1. Asturias (Leyenda) (No.5 Suite espanola opus 47) Isaac Albéniz (1860 – 1909)
2. Caprice for Masa David Cottam (1951 - )
3. Variations on a Theme by G.F. Handel Op. 107 Mauro Giuliani (1781 – 1829)
4. Andante Johann Sebastian Bach (1685 – 1750)
5. Allegro (Sonata 11 BWV 1003)
6. Fantasia on Themes from La Traviata Francisco Tarregá (1852 – 1909)
7. Lough Caragh Gary Ryan (1969 - )
8. Incantation no 1 William Lovelady (1945 - )
9. Incantation no 2
10. Incantation no 6
11. Incantation no 7
12. Fantaisie Hongroise Op. 65 No. 1 Johann Kaspar Mertz (1806 - 1856)
Recuerdos
Recuerdos, meaning memories, is dedicated to Alison's late mother. The CD is a delightful collection of original and transcribed works for the classical guitar. The diverse repertoire will take you on an exciting musical journey from the classical and romantic periods through to the colours and rhythms of Spain, Japan, and Latin America. Composers include: Sor, Chopin, Tarrega, Villa Lobos, Barrios, Turina, Dyens, Yocoh and Brouwer.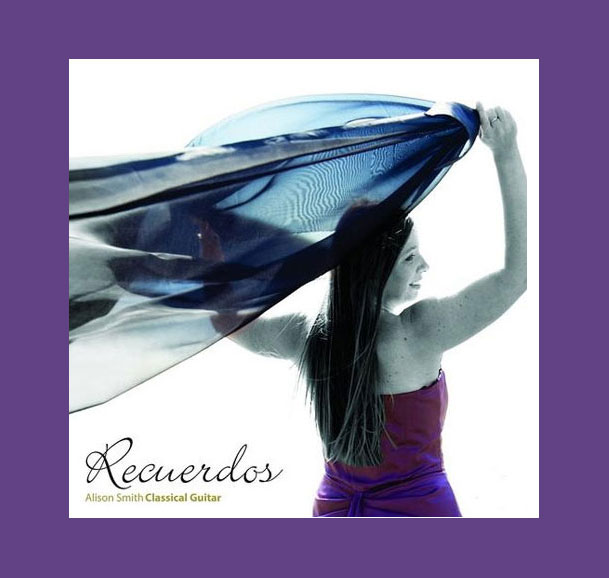 Recuerdos
1. Etude No 11 Heitor Villa Lobos (1887 – 1959)
2. Variations on a Theme of Mozart Op. 9 (From the Magic Flute) Fernando Sor ( 1778 – 1839)
3. Waltz Op.Posthume 69 No1 Frédéric Chopin (1810 – 1849)
4. Waltz Op. Posthume 69 No 2
5. La Catedral Preludio (Saudade) Augustin Barrios Mangore (1885 – 1944)
6. Andante Religioso
7. Allegro Solemne
8. Saudadé No3 dediéé à F. Kleynjans Rituel Danse Fete et Final Roland Dyens (1955 – 2016)
9. Capricho Arabe Francisco Tarrega (1852 – 1909)
10. Recuerdos de la Alhambra
11 Sakura Trad/Arr. Yuquijiro Yocoh (1925 - )
12. Un dia de Noviembre Leo Brouwer (1939 - )
13. Sonata Op. 61 Lento – Allegro – Allegretto tranquillo Joaquin Turina (1882 – 1949)
14. Andante
15. Allegro vivo – Allegretto – Allegro vivo